Brief background information on the eleven monarchs that ruled England between 1399 and 1603.
Henry IV
He was born in April 1367 to John of Gaunt and Blanche of Lancaster, he was the cousin of Richard II, who he deposed in 1399 to become the tenth Plantagenet king. His claim to the throne came from both of his parents as his father was the third son of Edward III and his mother was descended from Henry III. As a usurper his position as king was very unstable and throughout his reign Henry was faced with various problems, many of which were uprisings against his rule. He was married twice, his first wife was Mary de Bohun with whom he had six children (they were married in 1381 and she died in 1394) and his second wife was Joan of Navarre with whom he one son (they were married in 1403). The last years of Henry's reign were marred by his ill health where he suffered a disfiguring skin disease and attacks of an acute disease that eventually led to his death on the 20th March 1413. He is buried beside his second wife in Canterbury Cathedral.
Henry V
He was born in 1386 to Henry of Bolingbroke (later Henry IV) and Mary de Bohun at Monmouth Castle. At his father's coronation in 1399 he was made Prince of Wales and he fought in his first battle at Shrewsbury aged 16 where he was wounded by an arrow. After his father's death he was crowned king on the 9th April 1413. Henry's reign is famed for his French campaigns, particularly the resounding victory at Agincourt in 1415, due to his successes in France Henry gained a reputation as a great warrior king and was the epitome of medieval kingship. After lengthy negotiations with the French Henry married Katherine of Valois, the French king's daughter, in June 1420, they had one son together. In 1421 Henry set out on his last campaign to France, he did not return from this campaign as he died aged just 35 on the 31st August 1422 after contracting dysentery. His body was returned to England and interred in Westminster Abbey.
Henry VI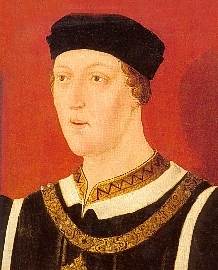 He was born in 1421 to Henry V and Katherine of Valois and he became king when he was just nine months old, which is the youngest accession age of any English monarch. He was crowned King of England in 1429 and due to the terms of the Treaty of Troyers he was crowned King of France in 1431. The treaty stated that after the death of Charles VI of France, Henry V and his heirs would inherit the French throne. A regency council ruled England in Henry's name until he was old enough to rule independently but even when he came of age Henry was very dependent on others; he was very meek and pious so was dominated by the ambitious nobles who surrounded him. In 1445 he made an unpopular marriage to Margaret of Anjou, the marriage was unpopular as she did not have a dowry and in order to marry her Henry had to return Maine to the French. It was during the turbulent reign of Henry VI that the Wars of the Roses broke out, the beginning of the wars is usually perceived to be the outbreak of war at St Albans in 1455. The wars were between the houses of Lancaster and York who were vying for control over the English throne and the responsibility for the outbreak of the wars is usually put on Henry due to his weaknesses as a king. He had one son, Edward of Lancaster, who was born in 1453. Henry's reign was very eventful due to the failed war in France which led to the loss of all French possessions except Calais, the domestic wars and the fact that he was deposed twice by Edward IV. After he had been deposed for the second time Henry's cause was lost as his son was killed at the Battle of Tewkesbury in 1471 and his wife was captured. Henry died aged 49 when he was murdered in the Tower of London by a blow to the back of the head in May 1471.
Edward IV
He was born in 1442 to Richard Duke of York and Cecily Neville in Rouen, France. He was the eldest of the four 'sons of York' his younger brothers being Edmund, George (later Duke of Clarence) and Richard (later Richard III). He was reputedly over 6 ft tall, handsome, athletic and a notorious womaniser. He grew up in the midst of the Wars of the Roses as his father fought for control of king Henry VI in the early 1450s and in 1460 York laid claim to the crown itself. In 1460 at the Battle of Wakefield Edward's father and brother Edmund were killed, the Lancastrians exacted revenge on York's corpse by putting his head on a spike and making it wear a paper crown. Edward went on to become king in 1461 after defeating the Lancastrians in a series of battles, one of which was Towton, this was the largest/bloodiest battle ever fought on British soil. As king Edward had two reigns, the first from 1461-1470 and the second from 1471-1483 this occurred due to the brief readeption of Henry VI in 1470. Edward's first reign was marked by his marriage in 1464 to Elizabeth Woodville who was a Lancastrian widow of little standing and the dominance/rebellion of Warwick 'The Kingmaker'. His second reign was more successful as he enforced law and order and improved crown finances so that he was the first monarch to die solvent in 200 years. His marriage to Elizabeth Woodville shocked the nobility as Edward married her in secret and she was a 'commoner' but regardless of this it was a very fruitful union as they had ten children, seven of which survived infancy. Edward died on the 9th April 1483 of uncertain causes but pneumonia, typhoid and appendicitis have been suggested. He was buried in St George's Chapel at Windsor Castle.
Edward V
He was born in 1470 to Edward IV and Elizabeth of York while his mother was in sanctuary at Westminster Abbey and while his father was exiled in Flanders. He was sent to Ludlow in the Welsh Marches as Prince of Wales to head the Council of Wales with guidance from his uncle Lord Rivers. He became king aged 12 after his father's death in 1483 and Edward IV had chosen his brother Richard to be protector during Edward V's minority. Edward V was escorted to London and installed in the Tower where he was to await his coronation but he was never crowned as king. His younger brother Richard was sent to join him in the Tower and within a matter of months rumours about their fate began to spread. They became known to history as 'The Princes in the Tower' because Edward V was usurped by his uncle Richard and shortly after Richard's coronation the two Princes disappeared. It is usually assumed that the two Princes were murdered at some point after August 1483 as they were never seen alive after this time.
Richard III
He was born in 1452 to Richard Duke of York and Cecily Neville at Fotheringhay Castle. He married Anne Neville in 1472 and they had one son, Edward of Middleham, who was born in 1473. During his brother Edward IV's reign Richard had been popular in the North of England where he had been given control of a palatinate. Within eight weeks of Edward IV's death Richard had usurped Edward V by claiming that he was illegitimate, Richard was then crowned king on the 6th July 1483. Richard has been the subject of much vilification due to the disappearance of the Princes as many people believe that they were murdered on his orders, although there is no evidence other than hearsay to support this claim. Richard's brief reign showed that he was leading the country in reform as he continued to improve the royal finances and he made significant changes in the judicial system so that English instead of Latin was spoken and he founded the 'Council of Requests' which helped poor people who could not afford legal fees. It also demonstrated how quickly a king's popularity could flounder as Richard's rash treatment of certain nobles led to rebellion and a lack of open support. Richard's son and wife died in March 1484, which led to further rumours against Richard which suggested that he had poisoned them. Richard's reign ended with his death at the Battle of Bosworth on the 22nd August 1484 when he was defeated by Henry Tudor's army. He was buried in Greyfriars Church, Leicester and a marble tomb was constructed in his memory on the orders of Henry VII.
Henry VII
He was born in 1457 to Edmund Tudor (who died three months before Henry was born) and Margaret Beaufort who was around thirteen at the time. He was originally christened 'Owain' at the behest of his uncle Jasper Tudor who wished to name him after his father Owen Tudor, but Margaret Beaufort disliked the name so renamed him 'Henry' after the Lancastrian king Henry VI. He had an eventful childhood as when he was four he was sent to live in the household of the Yorkist William Herbert and when he was fourteen he went into exile in Brittany with his uncle. His claim to the throne was tenuous as it came through a woman and an illegitimate line as his mother was the great-granddaughter of Edward III's son John of Gaunt and his mistress (and later third wife) Katherine Swynford. At the time of his birth he would never have been considered as a viable claimant but after 1471 he became the main Lancastrian claimant due to the deaths of Henry VI and his son. He became king in 1485 after defeating Richard III at the Battle of Bosworth and he was crowned on the 30th October 1485. To strengthen his position he married Edward IV's eldest daughter Elizabeth of York in January 1486 and they had eight children together, although only four survived infancy. Henry VII was challenged throughout his reign by rebellions and pretenders to the throne but by 1506 he had overcome the challenges to his rule and had secured the Tudor dynasty. Throughout his reign he formed and maintained strong foreign and financial policies which served to consolidate his position and the domestic stability of England. However in the later years of his reign Henry gained a reputation as a miser due to the meticulous attention that he paid to his finances in order to maximise his income. Henry died on the 21st April 1509 at Richmond Palace of tuberculosis and was buried in a magnificent tomb in the Lady Chapel that he constructed at Westminster Abbey. He shares his tomb with his wife who died in 1503 and James the I/VI who was buried there after his death in 1625.
Henry VIII
He was born in 1491 to Henry VII and Elizabeth of York and was their third child and second son. He became heir to the throne after his brother Arthur's unexpected death in 1502 and as his father's only remaining son he was closeted away to protect him. He was given the an education befitting a Renaissance Prince so he became fluent in Latin and French, well versed in classical texts and a fine dancer and horseman. When he became king in 1509 one of his first actions as king was to marry Katherine of Aragon who had previously been married to Henry's brother Arthur and had been betrothed to Henry since 1503. They were a glamorous young couple who resided over one of the finest royal courts in Europe, which the young Henry was determined to make more lavish. Reveling in his independence Henry spent his time in hunting, jousting, tennis, dancing, masques, feasts and 'disguisings'. He left most of the administrative work of kingship to his councilors in particular Thomas Wolsey who rose to prominence after the 1513 French campaign. In 1533 Henry broke with Rome in order to divorce Katherine of Aragon and marry Anne Boleyn, this led to the dissolution of the monasteries and the formation of the 'Church of England'. Henry married six times to Katherine of Aragon 1509-1533, Anne Boleyn 1533-1536, Jane Seymour 1536-1537, Anne of Cleves 1540, Catherine Howard 1540-1541 and Katheryn Parr 1543-1547 (dates indicate the length of the marriage). From these six wives he had three children that survived infancy Mary born in 1516, Elizabeth born in 1533 and Edward born in 1537. Henry also had a recognised illegitimate son by Elizabeth Blout who was born in 1519 and was known as Henry Fitzroy. As Henry's reign progressed he became more unpredictable and and his once athletic figure ran to fat, creating the well known view of Henry today as an obese tyrant. Henry died on the 28th January 1547 having suffered numerous medical problems related to his obesity and the ulcer on his leg, he was buried in St George's Chapel at Windsor Castle alongside his third wife Jane Seymour.
Edward VI
He was born in 1437 to Henry VIII and Jane Seymour and his birth was particularly significant because he was Henry's long awaited male heir. His mother died within weeks of his birth but he still had a mother figure in his life in the form of his eldest sister Mary who became very close to him. He was incredibly intelligent and became fluent in Latin, French and Greek. He became king in 1547 aged nine years old and was crowned on the 20th February 1547. Due to his young age a protector in the form of his uncle Edward Seymour ruled England in Edward's name, later in the reign Seymour was executed and replaced by the Duke of Northumberland as protector. During Edward's reign the English Church further distanced itself from Catholic customs/traditions and began to take shape as a fully-blown Protestant reformation. In 1549 the Book of Common Prayer was issued with an Act of Uniformity to enforce its use. As Edward matured his religious views became increasingly intolerant and his piety increased in intensity. He wrote his 'devise for the succession' in which he attempted to block his sister's claims to the throne so that the Protestant Lady Jane Grey could become Queen and continue Edward's religious reforms. This 'devise' was not passed through parliament so the legality of the document was very questionable as on its own it could not overturn Henry VIII's Act for the succession which stated that if Edward died without issue his sister Mary would inherit the throne. Edward died aged 15 on the 6th July 1553 after a long illness which may have been tuberculosis or some kind of lung infection.
Mary I
She was born in 1516 to Henry VIII and Katherine of Aragon and was the only one of their many children to survive infancy. She received an excellent education and became fluent in Latin, French, Spanish, Greek and could read/write in Italian. In her youth she was a renowned beauty with the red gold hair of the Tudors, blue eyes and a clear complexion. The lengthy divorce of her parents was incredibly traumatic for her as she was forcibly separated from her mother, bastardised, forced to act as a maid in her sister's household and threatened with execution. She was eventually reconciled with her father in July 1536 once she had signed a document recognising her illegitimacy and Henry VIII's position as head of the Church of England. She was a devoted Catholic but accepted her father's Church of England; it was only in Edward VI's reign that she changed her opinions as more extreme changes to the Church were made, which led her to believe that the Church could not function properly without the Pope at its head. During Edward VI's reign she became the Catholic figurehead in England as she defied the ban on the mass and continued to worship as she had done since her childhood. To become queen she had to overcome the coup to make Lady Jane Grey queen and she was able to do so due to her popularity and decisive actions. On the 1st October 1553 she was crowned Queen Mary I and was the first crowned queen regnant of England. As queen she initiated a counter-reformation that reconciled England with Rome and made the country Catholic again. This was generally accepted as the English people were still predominantly Catholic but there was some opposition to this from English Protestants. The Protestants who openly opposed the return of Catholicism to England met with the traditional punishment of burning so during Mary's reign 283 Protestants were burnt at the stake. This has led to her being vilified throughout history as 'Bloody Mary', although she was actually the most kind hearted of the Tudor monarchs. In 1554 she married Philip II of Spain at Winchester Cathedral in order to make a powerful alliance and to produce a Catholic heir to the throne. Mary suffered two phantom pregnancies during her reign which left her humiliated and depressed but each time she still emerged from her confinement and immediately began her duties as queen. Mary died on the 17th November 1558 at St James's Palace after falling victim to an influenza epidemic that was sweeping the country, she was buried in Westminster Abbey despite her wishes to be buried alongside her mother.
Elizabeth I
She was born in 1533 to Henry VIII and Anne Boleyn, her birth was greeted with mixed reactions as she was not the longed for son and many people saw her as illegitimate. Elizabeth's mother was executed by beheading when Elizabeth was just two years and eight months old, after this she was bastardised like her older sister and no longer entitled to use the title of Princess. Like her siblings she was intelligent and received a brilliant education from which she became fluent in Latin, French, Italian and Spanish. It is often said that her elder sister taught her how to play cards and the harpsichord. After Henry VIII's death she went to live with her stepmother Katheryn Parr and it was there that she engaged in a flirtation with Thomas Seymour who had married Parr shortly after Henry VIII's death. The true extent of this 'flirtation' is not known but some go as far as to suggest that Elizabeth became pregnant from it. During her sister's reign as queen she came under suspicion of supporting a rebellion and was sent to the Tower of London for eight weeks, this was traumatic for her as she feared that she would suffer execution as her mother had done. She became queen after her sister Mary I's death in 1558 and was crowned queen on the 15th January 1559. As queen, Elizabeth reversed her sister's re-establishment of Catholicism and the Elizabethan Religious Settlement created the form of English Protestantism that remains largely intact today. The English arts bloomed in Elizabeth's reign with the growth of the great works of Thomas Tallis, William Byrd, Christopher Marlowe and William Shakespeare. Elizabeth is famed as the 'Virgin Queen' as she never married although it was expected of her and many proposals were made. The exact reason for her refusal to marry is uncertain but it could have been that she did not want to risk losing her power as an independent queen or that she could not marry the man that she loved (Robert Dudley) so she chose not to marry at all. Her reign was faced with many Catholic challenges and assassination attempts, and the greatest Catholic challenge came form Mary Queen of Scots and her supporters. In 1568 Elizabeth imprisoned Mary Queen of Scots when she sought refuge in England and executed her 20 years later after being pressurised by her councilors. In 1588 her fleet defeated Philip II's Spanish Armada and she made her famous Tilbury speech, which cemented her reputation as 'Gloriana'. Elizabeth died on the 24th March 1603 of septicemia and is buried in the same tomb as her sister in Westminster Abbey, the inscription on the tomb reads 'Partners in both throne and grave, here we rest, two sisters, Elizabeth and Mary, in the hope of one Resurrection.'
Sources:
The Plantagenets by Dan Jones
A Brief History of the Wars of the Roses by Desmond Seward
Elizabeth by David Starkey
Mary Tudor by Judith M Richards
Edward VI by Jennifer Loach
Young Henry: The Rise of Henry VIII by Robert Hutchinson